Manufacturers & Researchers Worldwide Benefit From CBG's Solvent Distillation Systems
Our laboratory and industrial solvent distillation systems and stills have been proven to bring:
Solvent sustainability to labs and manufacturing facilities: Our solvent distillation systems and stills conserve resources while helping protect the environment.
Automation and efficiencies to various industrial and laboratory operations: Each CBG unit can be programmed to run absent of human intervention, which reduces the amount of physical labor required by your staff and supports simplified multitasking.
Safety to solvent distillation processes: All of our solvent distillation systems and stills are approved to meet stringent UL standards for distillation equipment; they're closed-loop systems that are designed to conceal harmful vapors and prevent potentially hazardous solvents from coming into contact with your personnel.
Cost savings to labs and industrial facilities: Our customers substantially reduce how much they spend on solvent purchases, waste disposal, compliance, labor and more.
Learn how laboratory and industrial applications like yours have already benefited from our solvent recovery systems.
Click Below to View Your Application:
---
Industrial Solvent Distillation Success Stories

Read about how this 3D printing company successfully used CBG's SolvTrue™ S1500 Solvent Recycler to significantly reduce the amount of IPA needed for parts washing during a large 3D printing project.
---

GN ReSound uses an IPA (Isopropyl Alchohol) Waste Solvent Solution to Cut Solvent Purchase & Waste Solvent Disposal Costs by 90%
Learn how this Minnesota-based hearing aid manufacturer using isopropyl alcohol to clean laser-formed plastic parts successfully benefited from one of CBG's solvent distillation systems and reduced the company's solvent purchase and disposal costs by 90%.
---
Read about how this biotechnology company expects to reduce the amount of hexane and ethyl acetate it uses by 27,000 pounds (or 70%) annually using one of CBG's solvent distillation systems.
---
Find out why our solvent recycling solution has helped this major manufacturer of several solvent- and water-based coating lines recover 92% of solvent by weight on average.
---
Read about how this Montana-based hand tool manufacturer integrated their Baron-Blakeslee degreaser with CBG's SolvTrue™ PW-4 solvent distillation system to greatly improve the company's production cleaning process.
---
See how this industry-leading manufacturer of deep-drawn cans and cases realized production process improvements and reduced solvent usage by 50% using a CBG solvent distillation system.
---
Learn how this manufacturer of high-performance coatings integrated a CBG solvent distillation system with a vapor degreaser to ensure parts are always pristinely clean and ready to be coated when they exit the system.
---
Laboratory Solvent Distillation Success Stories

The University of Colorado Denver's Chemistry Department and their Department of Environmental Health and Safety work together to use a CBG laboratory solvent recycler for large amounts of acetone.
---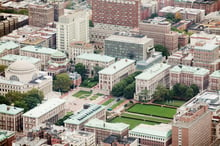 Read about how CBG partnered with Columbia University Medical Center (CUMC) to save thousands of dollars on solvent purchases and waste disposal fees with effective acetone, xylene and ethanol solvent distillation processes.
---
A histology laboratory was spending in excess of $1,300 monthly to purchase and dispose of 50 gallons of xylene and 85 gallons of ethanol. Learn more about how the lab lowered the cost of its xylene purchases by 95%—and the cost of its ethanol purchases by 90%—by installing a CBG Biotech 5-gallon solvent distillation system.
---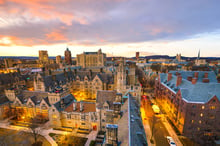 Professor Christine Dimeglio and her 250 to 300 undergraduate students clean their laboratory glassware using 100% recycled acetone that's been reclaimed by a CBG solvent distillation system. Learn more about how our system is making an important difference in the undergraduate teaching labs at Yale University.
---

Chemistry Lab Sees a Drastic Reduction in Acetone Waste Solvent Recycling & Waste Solvent Disposal Costs
University of California, Merced, Chemistry Professor Jason Hein and his students produce a lot of chemical waste. With the help of a CBG solvent distillation system, Hein found a way to clean up the waste and reuse it, saving his lab thousands of dollars and helping the environment at the same time.
---
Cannabis Solvent Distillation Success Story
Mary's Medicinals is an award-winning developer of cannabis-based products specializing in combining horticulture and technology to deliver innovative natural therapies for pain management and relief. The company's success hinges upon its partnership with CBG.
---
HAP-Free Solvent Distillation Success Story
As the laboratory manager for a high-volume Tennessee Urology Associates practice, Karen Adams makes all the decisions related to the processes and chemicals used by the histopathology and cytology sections of her lab.