CBG Biotech Introduces CannaTrue™ EPD, All-in-One Automated System for Cannabis and Hemp Processing
SOLON, OH – (October 2021) – CBG Biotech, a leader in solvent distillation systems for the laboratory, industrial and cannabis industries, has introduced the CannaTrue™ Extraction Purification Distillation System (EPD) for the processing and purification of essential oils and to capture desired cannabinoids directly from cannabis and hemp. Comprised of three modules – Extraction, Purification and Distillation – the CannaTrue™ EPD system also recovers ethanol, enabling the ethanol to be used for future extractions, while separating it from the essential oil and concentrate.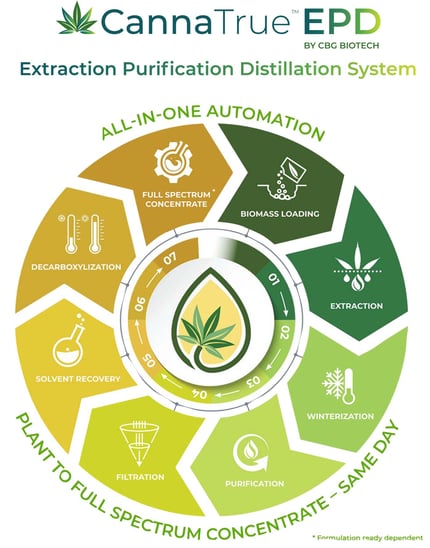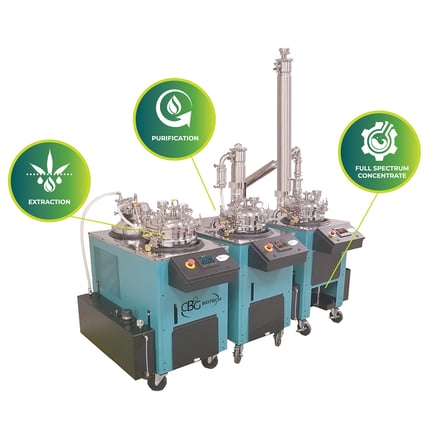 Designed for automatic single-operator processing, the CannaTrue™ EPD system allows for multiple batches of biomass to be processed per day. Its Extraction Module is flexible enough to run flower, trim or post-run CO2/BHO materials in consecutive batches of 5 to 11 lb batches. Inline winterization prevents carry-over of fats, waxes, and lipids, eliminating the otherwise costly and time-consuming process of winterization. The Purification Module removes impurities and reduces chlorophyll in a fully automated recirculating purification/filtration environment. Inline measurement and monitoring controls indicate time, temperature, and color. The Distillation Module delivers greater than 90 percent ethanol recovery.
The CannaTrue™ EPD System is the most recent addition to the company's CannaTrue™ products, which are developed with safety in mind. CannaTrue™ EPD is a closed-loop system. Unlike other equipment, the CannaTrue™ EPD System takes biomass and converts it to a full spectrum concentrate (beginning to end) absent of operator interface.
The CannaTrue™ SRS Series and EPD systems are designed to process and purify essential oils, while capturing the desired cannabinoids from cannabis and hemp in the cleanest and most effective ways possible. Separately, CBG Biotech's Solvent Removal Systems (SRS Series) enable bulk solvent recovery in large batches with a solvent recovery yielding strong concentration at recovery rates of 3-6+ gallons per hour. The systems feature PLC controls, cycle time tunability and a safe operator interface.
For more information, contact CBG Biotech at 1.800.941.9484, info@cannatrue.com or visit www.cbgbiotech.com. CBG Biotech has specialized in providing reliable solvent recycling technology for laboratory, industrial and cannabis applications since 1995. Their PathTrue™ line of laboratory solvent recyclers, including the Solvent, Formalin and FormaSolve™ models, reduce waste and disposal costs of such solvents as xylene, alcohol, acetone, xylene substitutes and formalin depending on the unit. CBG's SolvTrue™ series of industrial solvent recyclers are comprised of four models capable of separating organic solvents from both liquid or solid waste streams. All CBG Biotech systems are flexible, pre-programmed for individual requirements, serviced by the company, and made in the U.S.A.
Originally published at: https://icrowdnewswire.com/2021/10/18/cbg-biotech-introduces-cannatrue-epd-all-in-one-automated-system-for-cannabis-and-hemp-processing/