Solvents are a critical component of medical lab work, and running out of a particular solvent can bring your lab to a standstill. Most medical labs work with multiple solvents, so inventory management can become a laborious process. From working with the purchasing department and ensuring that the correct solvents are always available to disposing of solvent waste in ways that are safe, sustainable and legal, the tasks can be very time-consuming.
While you may be aware that it's possible to recycle solvents in your lab using fractional distillation equipment, you might not fully understand the benefits and logistics of doing so. You might also think that installing fractional distillation recyclers is labor-intensive and expensive, or that doing so requires specialized training.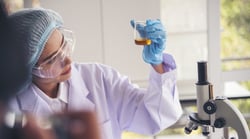 In reality, using fractional distillation equipment to recycle solvent waste can save your lab time, money and human labor—and it's easy. It's also a sustainable and safer choice for labs concerned with creating more environmentally friendly processes that better protect lab workers.
How Fractional Distillation Equipment Answers the Biggest Solvent Challenges Labs Face Today
Waste

Using fractional distillation equipment means far less waste for labs; this translates into less time spent disposing of waste and allows lab workers to focus more on sample processing.
Safety & Sustainability

Recycling solvents makes labs more efficient and safer; it reduces the generation of hazardous waste and protects lab workers from exposure to fumes and chemicals.

Economics

Recycling solvents can save labs money, even factoring the initial cost of the

fractional distillation equipment

into the equation. An onsite fractional distillation capability enables your lab to recover more than one solvent. Cost reduction comes from fewer solvent purchases, and also from streamlined lab processes and automated recycling that expends less human time.

Human Labor
Automating processes is critical to higher-functioning facilities, particularly when faced with staff reductions.
Simplified, Streamlined, Sped Up: Fractional Distillation Equipment
Consider the typical histology, pathology, chemistry or veterinary lab. As a part of the daily routine, lab technicians may have to make a trip to the stockroom every time they need fresh solvent. To dispose of dirty solvent, a remote waste disposal facility is often required. Waste disposal areas are generally not located close to labs and never close to patients.
These activities may only cause small breaks in the day, but there are also administrative and inventory tasks layered on top of these processes. For lab techs, solvent handling can become a time-consuming activity. Between retrieving new solvent, disposing of dirty solvent and managing the associated paperwork, keeping solvent in stock becomes another layer of administrative work for lab technicians and managers.
More and more frequently, as labs are consolidated and lab staff streamlined, automation becomes important to keeping labs running efficiently. Using fractional distillation equipment to recycle solvent brings automation into the lab, improving workflow and making the jobs of lab technicians and managers easier.
How Fractional Distillation Recycling Works
Once filled with dirty solvent, fractional distillation equipment runs on its own with minimal human intervention. Solvent can be recycled with zero technician attention while lab workers are performing other tasks, or the equipment can even run overnight. Once the recycler is started, the operation is automated.
Fractional distillation uses heat to separate a mixture into its component parts or fractions. Specifically, chemical compounds are heated to the temperatures at which they vaporize into the fractionating column, which then separates the solvents and introduces them into a condenser that converts them back into liquids.
This process allows laboratories to effortlessly reclaim multiple high-purity solvents from the same waste mixture.
Time to Recycle Solvent With Fractional Distillation Equipment
Each gallon of dirty/used solvent takes about an hour to recycle in the lab (times can vary depending on sample types), with about 15 minutes on the front-end to fill the machine, and 15 minutes to retrieve clean, recycled solvent. Fractional distillation equipment can hold 2.5, 5 or 10 gallons per unit. Compare this to time spent leaving the lab to go to the stockroom and disposal facilities and filling out paperwork—as well as the cost of using new solvent each time.
Recycling solvent with fractional distillation equipment is a streamlined process entirely within the lab and handled by those whose jobs rely on using solvents. In essence, a lab becomes its own solvent supplier, eliminating or significantly reducing the need to manage resources and purchase orders or handle waste disposal elsewhere.
A Focus on Safety
Most labs have a cocktail of solvents they need to separate. During normal lab processes, organic compounds, such as xylene and alcohol, are used to facilitate tissue processing and staining and to ensure proper analysis of tissue under a microscope.
These solvents are critical to lab processes, but they're also strong chemicals. Vapor emission is a hazard for labs. With a closed-loop fractional distillation system, that hazard is avoided. One of the profound benefits of using fractional distillation equipment to recycle solvents is protecting lab employees from fumes and exposure. Closed units with vapor filtration keep fumes from escaping, so lab staff is not exposed to harmful vapors. Other risks related to flammable fumes are also greatly reduced.
Easier-to-Achieve Sustainability
For labs with proactive green initiatives or sustainability goals, fractional distillation equipment fulfills another mandate as well: to reduce the volume of new solvent used (and the containers it's shipped in). Solvent waste recycling helps labs lessen the volume of hazardous waste they generate. It can also help ensure your lab achieves College of American Pathologists (CAP) accreditation.
Creating sustainable initiatives inside the lab is pivotal today, and keeping employees safe and healthy is obviously a superior mandate. Recycling solvent helps cut down on the volume of hazardous chemicals being introduced into the environment, while also saving your lab money.
Purchasing Fractional Distillation Equipment
With all of these benefits, fractional distillation equipment is a game-changer for labs. Purchasing fractional distillation equipment will bring your lab closer to sustainability goals, help streamline your processes, simplify daily lab tasks and ensure you always have higher-quality, less expensive solvent within easy reach. Purchasing this equipment will also save your lab money within years and provide reliable solvent purity so that you don't have to be concerned about running out of high-quality solvent.
Justifying the cost of a solvent recycler is easy if you consider all of the benefits this equipment provides. But from a pure numbers perspective, fractional distillation equipment is also far less expensive than continually having to purchase new solvent and pay for offsite waste disposal. Keeping lab-supply costs down is paramount to the bottom line for labs.
CBG Biotech has been successfully providing solvent recycling solutions to the nation's top laboratories since 1995. To learn more about fractional distillation equipment and how it could benefit your lab, contact CBG Biotech today.
Learn More
At CBG Biotech, we rely on a set of customer-first core values that promote ethical and honest behavior, personal accountability, and teamwork to deliver the solutions that set customers up for success. If you have a question or would like more info, please call 800-941-9484 (and press option 3 for support) or get in touch with us online today!
Check out these other helpful resources: