CBG Biotech's PathTrue™ series of laboratory solvent recyclers are important for the effective and efficient operation of your laboratory. PathTrue™ laboratory recyclers incorporate programming/controller engineering, electrical engineering, and mechanical engineering, in order to ensure effective operations.
This article discusses the importance of maintaining the interior operation of the mechanical engineering of your recycler. Specifically, one of the tools to maintain effective operation of the interior of CBG's PathTrue™ laboratory recyclers is the use of EZ Clean™.
What is EZ Clean™?
EZ Clean is a specially formulated alkaline solution designed specifically for CBG's laboratory recyclers. The EZ Clean formulation is compatible with the construction materials of your laboratory recycler and is also designed to dissolve and remove solid buildup inside of your equipment. EZ Clean can be used multiple times over the course of the recycler's useful life in your histology, pathology and cytology laboratory.
What Does it Do?
EZ Clean helps to maintain and prevent interior blockages in your laboratory recycler. This is important as most histology and pathology waste includes a dissolved solid like paraffin. Removal of these solids is recommended to maintain optimal conditions inside the interior of the boiling tank. This helps to maintain the automated operation of your CBG recycler, as well as the sustainable safe operation of the recycler in your histology or pathology laboratory.
Easy to Use
EZ Clean is introduced into the CBG laboratory recycler and then a cycle is run on the equipment, thereby cleaning the interior elements of the recycler, including the boiling tank. That is it – you are now ready for solvent recovery!
When is it Recommended?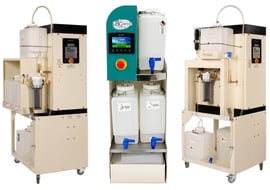 EZ Clean is recommended for frequent use in your CBG laboratory recycler. EZ Clean should be used more frequently than the recommendations below if your laboratory has a high concentration of solids in the waste stream. In general, EZ Clean should be used as follows:
PathTrue™ Solvent Recyclers: After 60 runs (quarterly)
PathTrue™ FormaSolve™ Recyclers: After 10 runs (monthly)
PathTrue™ Formalin Recyclers: After 10 runs (monthly)
In summary, maintenance and effective operation of your PathTrue™ laboratory recycler will be improved with the periodic and routine utilization of EZ Clean.
Learn More
For these reasons, ranging from strategic to tactical, it's important to evaluate the security of your supply chain for organic solvents with the use of our production recyclers. CBG Biotech's industrial business development executives stand ready to meet your needs for recovering your own organic solvents with SolvTrue™ production recyclers. If you have a question or would like more info, please call 800-941-9484 (and press option 3 for support) or get in touch with us online today!
Check out these other helpful resources:
Video: CBG Preventative Maintenance
CBG's technicians perform the necessary steps to ensure that your production solvent recycling system achieves optimal performance. Our team will ensure that the recycler's components are cleaned and adjusted to produce high-quality recycled solvent to support your operational requirements.


Blog Post:

The Essentials of Solvent-Based Parts Washing Explained


Solvent-based parts washing is one of the most common practices in manufacturing. Learn the role industrial parts cleaning equipment plays in it and more.


Video: About CBG Biotech
At CBG Biotech, we tailor our industry-leading solvent recycling solutions to offer safety, automation, sustainability, cost savings and—most importantly—improved quality throughput to our customers' critical lab and industrial applications.