Essential oil extractions are performed to obtain important and valuable ingredients from plant matter and have been occurring for centuries. Early pharmaceuticals utilized extraction techniques in medicine and still today extractions from plant matter are used to obtain critical oils that are used in manufacturing medicines. An example of this is the use of yam biomatter to extract precursors for the intermediate of testosterone. Extractions are also performed to obtain many of today's fragrances.
With the state and local legalization of cannabis and hemp products, extraction techniques of this biomatter have become increasingly important. Initially, this was largely a manual process performed by people to extract concentrate/oil from cannabis and hemp biomass material. As the legalization process has expanded, so has the demand for these important medicinal and recreational materials.
Processors and manufacturers are looking for ways to improve their extraction techniques from this important plant or biomass and to optimize the oil/concentrate obtained from a given batch for furtherance in formulation and manufacturing of end products (including, medicinal materials, topical application materials, and edibles).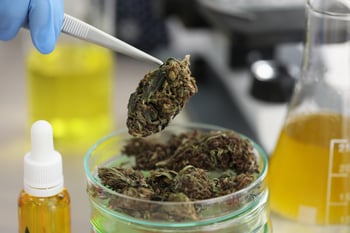 There are various techniques to use for extracting oil/concentrate from biomass and extraction can occur through the utilization of ethanol, carbon dioxide and hydrocarbon (for starters). Each of these methodologies has its own place in the market, depending on what a processor or manufacturer wants to obtain from the plant material and how much post processing they would like to pursue post extraction.
While each of these extraction methods has its own benefit, there are some key aspects to pay careful attention to when performing an extraction and selecting a system to support your manufacturing, laboratory and cannabis/hemp extraction needs.
4 Important Factors to Consider for Cannabis Extraction Yield
1. Movement of Material
When performing cannabis or hemp extraction, it is important to move the material as little as possible. Physical transfers between different pieces of equipment when performing an extraction will ultimately incur time and yield loss. This is the case when any material is moved; yield is ultimately sacrificed and time is incurred. Therefore, minimization of the movement of material during cannabis or hemp extraction is important for final yield and ultimately positive results from your extraction.
2. Minimization of "Unwanteds"
As is the case with any naturally occurring plant, there are aspects of the plant that are desirable and aspects that are undesirable. For example, in the case of the cannabis plant, most processors are interested in obtaining a high yield of oil/concentrate from the plant material and are not interested in the "unwanteds" such as fats, waxes and lipids. Therefore, when considering a cannabis extraction system, an end user wants to carefully evaluate how these unwanted materials will be minimized during the extraction or after it is performed. Subsequent processing and handling of the material (post extraction) to remove these unwanted constituents from the oil/concentrate involves considerable time, labor cost, and the sacrifice of yield. Therefore, it makes sense for a processor and manufacturer of cannabis oils to minimize these elements during your extraction process and from your overall processing operations.
3. Gentle Treatment of the Biomass
As is the case with any product or material, particularly when it is naturally occurring, care should be taken when handling and preparing cannabis for extraction. A streamlined and controlled process will enable a gentler extraction from the cannabis, which will ultimately aid the quality of the oil or concentrate that is derived from the cannabis extraction. This helps post processing by providing a high-quality oil for downstream processing and additive applications. Many cannabis extraction methods put significant physical stress onto the material, thereby bringing across the unwanted materials, while at the same time damaging the plant and eliminating an otherwise good yield extraction. Thus, your extraction methodology approach and physical treatment of the plant matter are important considerations.
4. Continuous Processing
When considering cannabis extraction, the operator should consider how the material will be continuously processed. What this means is, how are back-to-back batches of biomass processed through the same equipment in a sequential manner. In addition, how are those back-to-back processes managed and ultimately produced for further processing. As discussed in this article, post extraction can involve multiple steps of purification, winterization and/or solvent removal and it is likely that your lab is sacrificing valuable time, incurring increased labor costs and losing valuable yield from your beginning biomass extraction.
While there are several cannabis extraction technologies available and some systems may claim a "fast extraction time," this time does not include post extraction steps. Therefore, processors and manufacturers should consider the entire process from starting with biomass and ending with a purified, full spectrum oil/concentrate.
Learn More
At CBG Biotech, we rely on a set of customer-first core values that promote ethical and honest behavior, personal accountability, and teamwork to deliver the solutions that set customers up for success. If you have a question or would like more info, please call 800-941-9484 (and press option 3 for support) or get in touch with us online today!
Check out these other helpful resources: